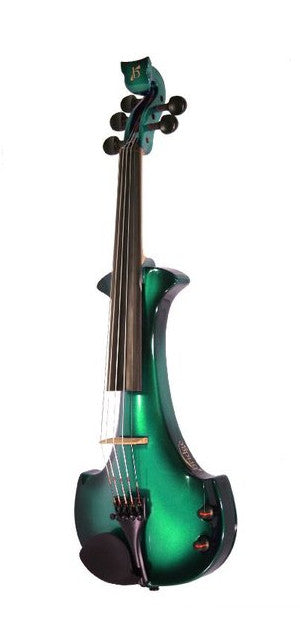 Bridge Lyra 5-String Electric Violin Outfit
The Bridge Lyra 5 String Violin is Bridge's entry into the affordable electrics category. Built on the same body style as the Aquila 4 String, this aggressively styled electric instrument was built for performance with kevlar and carbon fiber around a hollow, resonant body. A sturdy Bridge piezo pickup allows for equally clear tone in quite practice time and amped electric performance alike. This is not some dainty acoustic; the Aquila is designed to move with you on stage without loosing contact with the recessed 1/4" jack. Volume and tone knobs provide basic electric violin controls.
The Bridge Lyra 5-String Electric Violin Outfit Comes Complete With A Premium Case & Carbon Fiber Bow
Hard Oblong Case w/ Shaped Interior
Black Canvas Cover w/ Large Music Pocket
Plush Red Velvety Lining
4 Bow Holders
Black Fibre Bow w/ Ebony Frog, Nickel Fittings & Winding
What about that distinctive scroll?
Bridge's signature headstock was inspired by the Stradivari 1710 Viola da Gamba. Modified for the modern peg box, Bridge's distinctive Shield, through peg box and neck is carved from a single piece of solid maple.
Designed by Bridge Luthiers, UK. Made at Bridge Workshops by Eastman Strings: Beijing, China.

Available in six standard colors: Black, Black Blue, Black Green, Black Purple, Black Red, White
Premium finishes available for special order. Visit this website to view all premium options.
---
Bridge Lyra 5-String Electric Violin Outfit