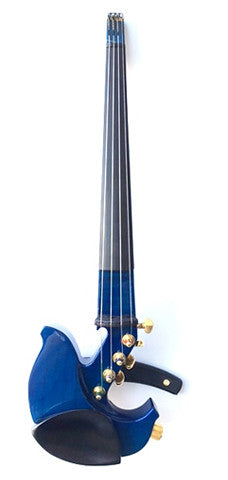 Custom - Jordan 4-String Electric Violin w/ Barbera Twin & Blue Flamed Maple Body
This is a special 4-String Jordan electric violin was custom made for the Long Island Violin Shop. It features a Barbera Twin Hybrid Bridge, blue transparent flamed maple body with ebony fingerboard and gold hardware. Case included.
Featuring a beautifully crafted design that can appeal to both the classical-minded and the modernist, Jordan Violins are premium instruments that offer the player flexibility in sound. Jordan Violins are designed and built by John Jordan, a recognized violin maker with a flair for innovative design and fine materials.
Jordan Electric Violins achieve superior balance and ergonomic function by eliminating unnecessary mass from the body and scroll, placing the remaining weight as close to the support of the chin and shoulder as possible. All models feature carved wood neck thru body, ebony or ivory wood fingerboard and nut, ebony or rosewood Kaufman chinrest and firmly attached Kun shoulder rest.
Relocation of the tuning pegs behind the bridge takes weight off the neck, making the instrument seem lighter and giving a sleek appearance. Precision-geared tuning machines make fine tuners unnecessary.
Rigid termination at both ends of the string provides maximum pitch stability, tone, and output to the transducer system. Maintaining standard violin geometry and proportion allows any violin pickup system to be used and the semi-solid body design ensures no feedback even at stage volume.
---
Custom - Jordan 4-String Electric Violin w/ Barbera Twin & Blue Flamed Maple Body